Prosperity Works
Many New Mexicans have a "high energy" burden, meaning they struggle with spending too much on utility bills each month. This is particularly challenging for low-income families and individuals whose homes may be poorly insulated or not properly equipped with energy efficient appliances.
Prosperity Works and their partners, originally consisting of Western Resource Advocates and Homewise, did not start out to create an energy efficiency program. Instead, the collaborative was responding to an open-ended framing question: What would an equitable transition to renewable energy look like for New Mexico communities?
Through the planning process, the collaborative integrated additional program partners – SWEEP, Partnership for Community Action and PNM – and developed the focus of their implementation work: To ensure an equitable energy transition for New Mexico communities, a focus must be placed on two concepts: 1) reducing energy use in low-income households through stringent energy efficiency retrofits and 2) switching energy production from fossil-fuel based generation to renewable generation. These two steps would reduce energy bills, increase the health, safety and comfort of residents, and reduce emissions that are a major cause of climate change.
With that refined focus, Prosperity Works and Partnership for Community Action developed a multi-pronged approach to foster equitable energy transition. Among the different aspects of this collaborative, which also includes introducing policy changes, Prosperity Works and Partnership for Community Action have created a community-to-community model to reach families most in need of energy savings.
Frontline community members, known as Parent Leaders, are paid and trained to work within their communities to identify and schedule homes to receive free audits and energy upgrades in partnership with PNM. In 2020, over 250 families received energy savings, with an additional 250 families in 2021.
This program's success rests with the Parent Leaders who build relationships and trust with families in their community – and help connect these families to vital resources. Rosa is a Parent Leader in the South Valley; this is her story in her own words.
Rosa's Story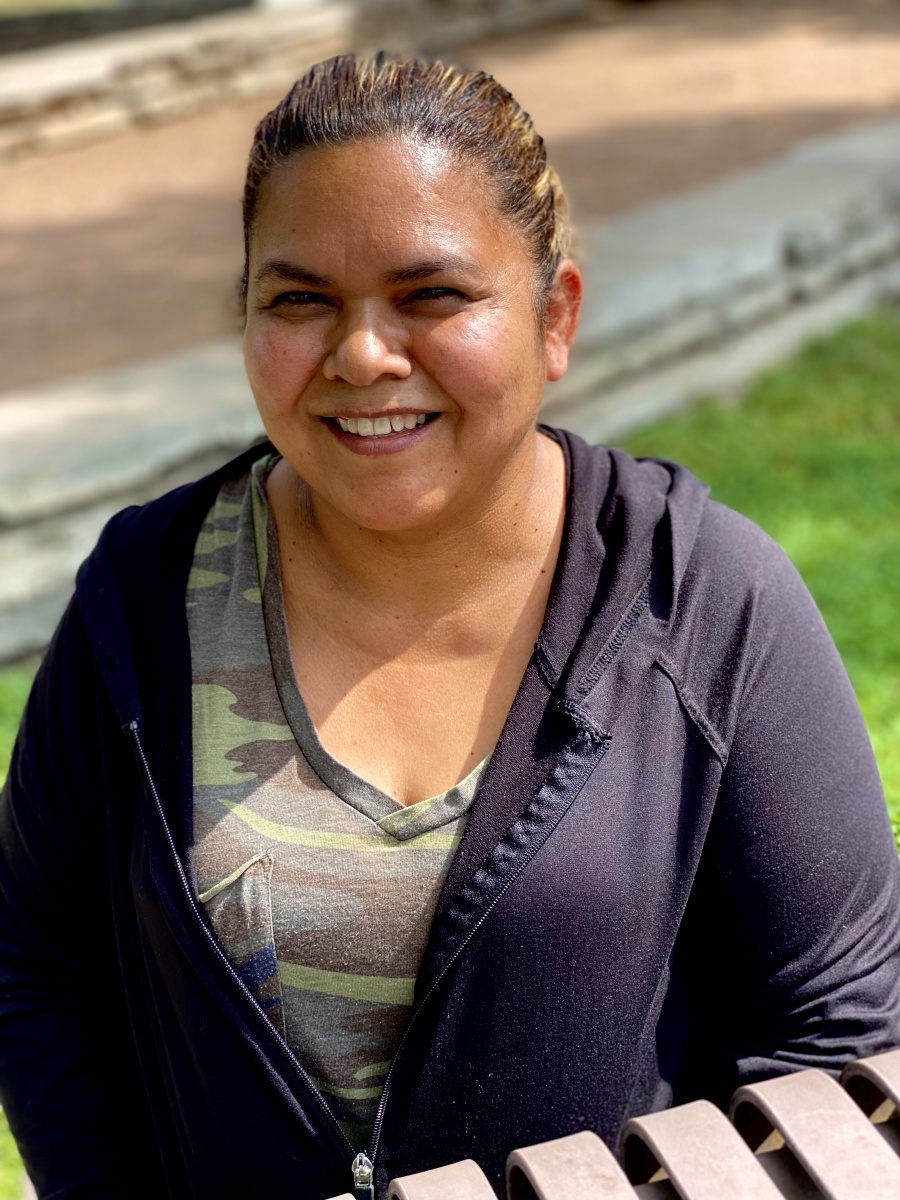 I'm a community advocate; I'm a mother of two young girls and a grandma of two kids. I was born in Ciudad Juárez, and grew up in El Paso, Texas. I came to Albuquerque almost 30 years ago – 29 years ago. My heart is growing in Albuquerque because of my children, but I still have a lot of family down south.
About eight years ago, I learned about Partnership for Community Action through Abriendo Puertas, the workshop for parents. That got me started – and gave me the opportunity to feel connected to other parents. As an immigrant, I don't have family here in town. But after going through the program, I saw that there were other parents like myself without family. Making connections opened another world to me.
I went back to college and became certified as an early childhood educator. But I saw the need for parents to know about resources – especially only Spanish-speaking parents – so I started working more with connecting parents to resources.
I've been a Parent Leader for more than five years in the community. As a Parent Leader, I connect families to any resources they might need – rent, electricity, food, free COVID testing, the days and hours for vaccinations. During the pandemic, I was blessed to know English and Spanish very well, so I was able to reach out to parents. And, parents were able to reach out to me. It was a learning process for everybody – from helping parents request a laptop for their kids to letting schools know that families might have more than one kid. Many times, families had three or four kids and they only had either one cell phone or one laptop. For some parents, it was hard for them to make the commitment to sign for a computer; they lost their job and they were scared to sign because they were responsible if anything happened to the computer. I know of a couple of parents who couldn't risk it. They stayed with cell phones until they were able to afford even a used tablet for their kids.
About 90% of the families I work with are Hispanic, Spanish-speaking, very low-income, in the South Valley. Many of them have more than one family living under one roof, so multiple family houses. Over 50% of the families I work with live in mobile homes, so they use electricity – electricity for water heaters, air conditioners. It's amazing to learn how big of a bill they get every month. It can be $300 or more and that's just for electricity. Being in the program with PNM and Prosperity Works has given me the opportunity to let parents know that there are energy resources available to them.
It's hard to hear them say, "We make a payment towards the electricity bill so it won't turn off, but we have to say no to groceries." Or they have somebody with medications and they have to make a decision. Either they pay the bills or they buy medication. They come together as a family and make those decisions: "We have only so much. Do we buy groceries? Do we buy medication? Do we pay the bill?" It's just a conversation that keeps going and it doesn't go away.
Families are amazed to know that they can apply for reduced energy rates. Many of our schools in the South Valley are Title I. Many students are Hispanic with Spanish-speaking parents, so PNM knows that the income levels are very low. But, many of our families are afraid that it will hurt them in the long-term if they do this now. Families are trying to stay away from borrowing or applying for services because they think it will hurt them in the future. They want to know when they will need to pay. They are afraid that it's going to be too expensive to have someone from PNM come to their house and do an evaluation. But, I explain, "No, it's a free service."
Once PNM goes to the houses and checks the bulbs, they'll look at appliance strips. Families will receive one or two electricity strips depending on how many appliances there are in the home. That's just to help the families save energy. Also, if the refrigerators are old and they're not working well, families can qualify for a new one. They're simple refrigerators – two doors with a freezer on top, but families cannot afford to buy even a used refrigerator. It saves them money in the long run. Many times, they'll say their groceries keep going bad or they have to throw out food – they're throwing money away.
A lot times I'm coordinating with PNM and families to schedule when it's a good time for a technician to come to the home – when does PNM have a slot available. Before COVID, I used to be at the houses when the technician came. Last year, when the pandemic just started, I was with one of our first families in 2020. I was just observing what the technician did so I could be familiar with it and explain it to other families. He checked the water heater; changed light bulbs.
The PNM technicians are very respectful – very friendly. Some of them might not be perfectly Spanish-speaking, but they do try to respond to questions and they will answer in Spanish. Sometimes our families will say, "We don't speak English. Or my husband is at work. Or the kids are at school and they usually translate." I say, "Don't worry. We'll let PNM know that you need a technician who speaks Spanish." For the families – that's something very important, and a big relief.
In 2020, a technician went to a home. It was a two-bedroom house, and the woman had a chandelier in her kitchen. It had quite a bit of light bulbs and technicians can replace up to 40 bulbs with energy efficient bulbs, to help families save money. They changed around 30 bulbs for her. She couldn't believe it; she said, "There's so much light in my house now!"
Last year, we helped 200 or 250 families get energy savings. This year, we're doing around the same amount. We're about four or five volunteers. I feel I am blessed to be able to keep my Spanish and be of service to somebody else. I help connect families to resources because I went through it. I needed help at one point, and you never know when you're going to need it again.
When I do this work, I think about the "thank you" I get from families. Or the messages that say, "I'm so excited. I'm so happy. Can I give your name and number to a neighbor? Or to another parent?" I love the South Valley; it's a beautiful community. Zip codes, especially 87121 and 87105, we're so populated and we're so close that everyone knows each other. If I'm out with my kids, sometimes people say, "This is Ms. Rosa, she connected with us or helped us sign up for food boxes." Just to see my kids say, "You helped them, mom? Can I tell my friend to have his mom call you? I think they need help."
It makes me proud. I'm proud that my kids know my work.