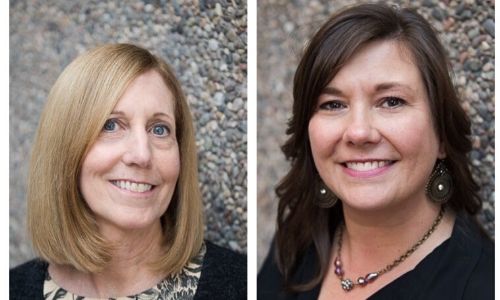 The Center for Nonprofit Excellence recently welcomed two new members to their capacity building team. Kate Livingston joins the team as the Training & Events Manager along with Jenifer Romero, who will serve as the Technical Assistance Manager.
Kate will be responsible for planning and executing CNPE trainings and other events for our partners (primarily nonprofit staff and key volunteers, such as board members). She has more than 25 years of experience in higher education; most recently, she was Executive Director of Extended Learning for Southern Methodist University (SMU) in Dallas. Prior to that, she spent 12 years at UNM's Anderson School of Management, first as Director of the Executive MBA program and Management Development Center, and subsequently as Associate Dean for Executive Education and Community Outreach.
Jenifer Romero brings her passion for growth and development to her new role where she will provide technical assistance for nonprofit staff and board members. She has over 20 years of experience in human resources, recruiting, business development, and marketing and most recently served as the Chief Operating Officer and Director of Outreach and Development at Galloping Grace Youth Ranch.
In addition to their professional credentials, both Kate and Jenifer have long records of community and volunteer service.
"We are very excited to have Kate and Jenifer on board," Larry Alei, Center for Nonprofit Excellence Interim Director said. "They bring unique and appropriate skillsets to these positions, and CNPE will continue to contribute to the development of nonprofit operations and governance throughout New Mexico."