Color Theory
Working within the initial framing question, How can vulnerable families be supported to overcome the barriers they face in building assets and wealth?, the Color Theory collaborative developed two interconnected paths related to economic security and asset building. First, Color Theory partnered with New Mexico Immigrant Law Center, New Mexico Dream Team and Partnership for Community Action to leverage their work and support systemic policy and advocacy. This partnership aims to – and has – removed regulatory barriers to professional, occupational, and commercial licensing. Additionally, Color Theory continues to support, create, and improve systems for communities to build wealth by coordinating and providing access to technical assistance programs.
During COVID-19, the collaborative engaged an economic justice attorney to assist community members in accessing stimulus funds or who may have been experiencing discrimination in accessing stimulus funds. As a result, community members received critical financial support necessary for economic security during the pandemic. Color Theory also provided and supported necessary technical assistance for local business owners, such as navigating the Paycheck Protection Program loan process.
In addition to the COVID small business support, Color Theory partners including the New Mexico Immigrant Law Center and the New Mexico Dream Team, advocated for the successful passage of Senate Bill 137. Passed in February 2021, the bill removed immigration status as a barrier to professional and occupational licensure or certification for professions or occupations that did not statutorily require a specific type of immigration status. With this, teachers, dental hygienists, doctors, nurses, respiratory therapists and other professionals could work in the state, build financial assets, and purchase homes and other property.
Christian was born in Mexico City and moved to Albuquerque from Atlanta to get his degree in respiratory therapy. He graduated as COVID began, advocated for the passage of Bill 137, and when it passed, he acquired his license to be a respiratory therapist and immediately began working with patients. This is his story, in his own words.
Christian's Story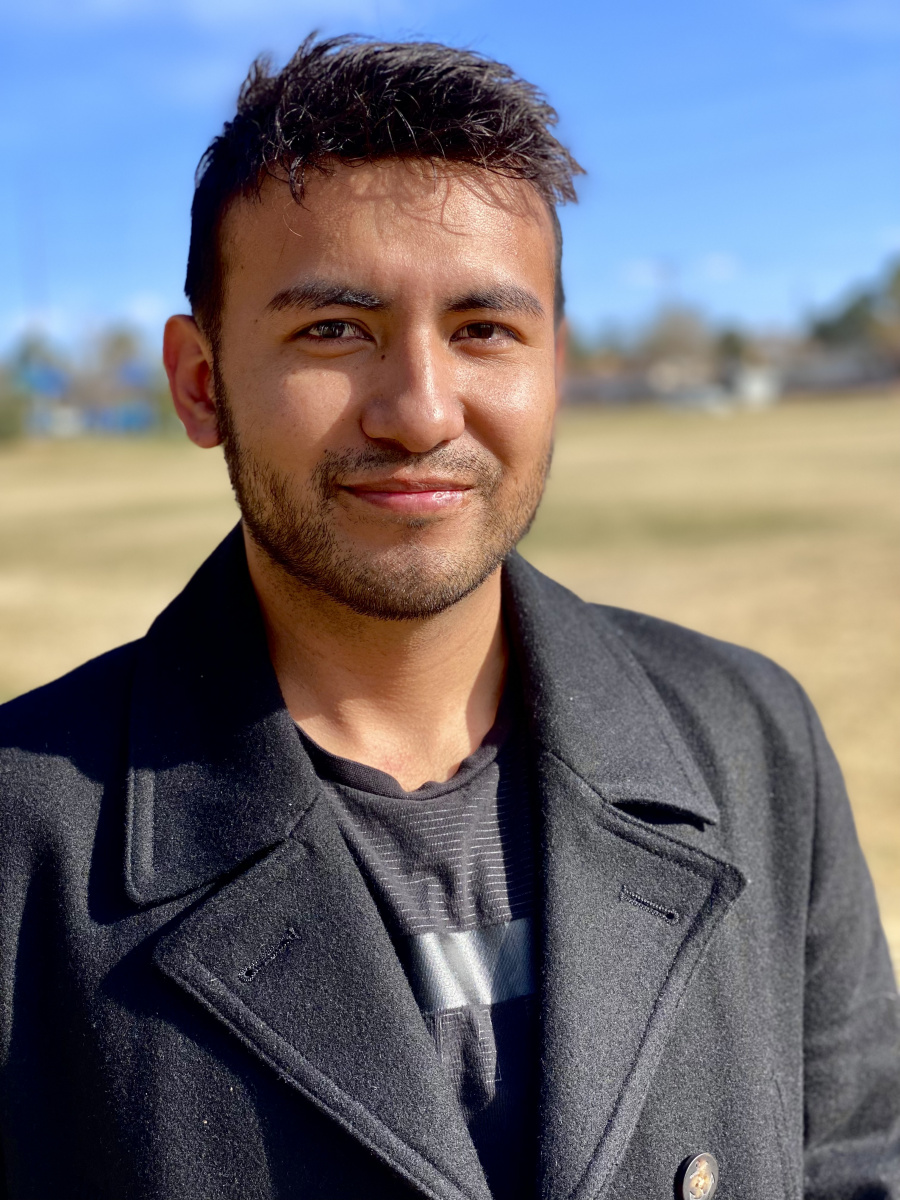 My name is Christian Farfan and I moved to Albuquerque about five or six years ago. I moved from Atlanta. I'm originally from Mexico City; that's where I was born and raised. We moved to Albuquerque because it was cheaper than Atlanta and we had some scholarships here. I was able to go to school here and get a degree.
My degree is in respiratory therapy, so they really needed people to work in the hospitals at that time – they still do. Once I got my degree, I couldn't work because I didn't have documents. That's when I started working with New Mexico Immigrant Law Center and New Mexico Dream Team. They were working towards a bill that could give undocumented people professional licenses. They started talking to me about that, and I was really excited because I couldn't work for a whole year after I graduated because I didn't have a license yet.
Before the bill, I would do just any type of work – food deliveries, construction – I used to be a server for a long time. I was just doing the jobs, waiting for the bill to pass. My situation was completely different. During that time, I got to meet other people in my same situation, and it was really important to get this bill going. It was really overwhelming because I knew there was a chance that it wouldn't pass. And, if it didn't pass, my life would not be the way that it is right now. I would have probably had to move somewhere else.
When the bill finally passed, I was able to I was able to get my license and I started working immediately. Everyone started sending me messages. I went on the internet to see what the requirements were to get my license and get the ball moving. I really needed to work and I knew people needed respiratory therapists. That's what I did the first minute I found out that the bill passed. The next day, I sent my application to get my license. It was declined. I asked why and they said there was no social security. I told them about the bill that had just passed. They checked and said, "Just write SB137 on the form and we'll take care of it." That's what I did and I got my license.
Ever since I got my degree and my license, everything changed. When I got a job, I was finally working towards something I really enjoyed. I was also helping my community – that's where I was needed the most, in the hospitals. I really felt like I was making some sort of difference in people's lives. And then the opportunities that came with a professional job were immense; I was able to buy a house. I was able to start my small business – a whole world of opportunities opened for me.
I went to work right away wherever people needed me the most. I went to a travel [health] agency, and they sent me to Farmington to work at the hospital there. I left the next week and was there for two months. They were really short-staffed and getting a lot of patients, especially from the reservations.
I knew it was going to be tough because they were 12 hour overnight shifts for four nights straight. But, I was waiting for this and it's what I was getting ready for in school. It was a sour experience – I was finally doing what I loved the most, but I was also living through tough times with these people and their community. I had been to Farmington before and it was beautiful. This time, it was nothing like I had seen before – everything was shut down. It was getting hit pretty hard. We had no more rooms in the hospital; we had patients in the hallways. We didn't have enough PPE.
I had to stay strong because we were the ones people needed. During those times, families couldn't visit the hospital. So, to patients, we were the only people they had contact with. To me, that was a job I had to do. Besides from being the healthcare worker, I had to be some sort of support and cheer them on to keep going. If I showed up to work with no energy or no spirit, the patients would notice and they wouldn't fight back against the disease.
There's no way to describe the experience. It made me a better person – a better professional. What patients went through was just… and for them to go back to their lives after that. To me, it means that everything is possible in this life.