Agriculture Implementation Research & Education (AIRE) Collaborative
Building on a collaborative that had been developing for two years before formalizing during the Zone grant, AIRE and its original partners (Not Forgotten Outreach, Farm to Table New Mexico, and Taos County Economic Development Corporation) sought to create an integrated culinary ecosystem that supports local northern New Mexico farmers, while providing naturally grown food products in the Taos school system.
Based on the original framing question – "How can the myriad potential benefits of institutional procurement of locally grown and produced food products be achieved?" – the AIRE collaborative identified and implemented best practices to connect local producers with the Taos public school system. In doing this, they were able to open institutional markets for small growers while providing schools with healthier food options and exposing more students to local agriculture.
Prior to the pandemic, AIRE worked with school partners and the Taos Farmer Rancher Co-op to identify crops to grow for school cafeteria menus. They also established a formal working relationship with the district that led to a planned trajectory for local procurement and seeds for fields, student interns, and consulting work within the district's agricultural education program. A 1,750 sq ft high tunnel greenhouse was erected at Arroyos del Norte Elementary School, and planted with tomatoes, cucumbers and chile for use in the district's USDA reimbursable summer lunch program.
As the COVID-19 pandemic swept through New Mexico, the collaborative has helped to address food insecurity, which has become an even more pressing issue. Food insecure school-aged children have faced greater barriers during the pandemic as their access to school meals has become increasingly more difficult. Similarly, the pandemic has also disrupted critical supply chains for food producers, distributors, and institutional buyers.
In order to sustain the capacity of local producers whose plan to sell products to the schools was disrupted by the pandemic closures, AIRE adapted to the needs of the community and launched a 150 member CSA and Farm to Family Emergency Food Box Program which procured produce, beef, and pantry staples from 15 local farms and provided the equivalent of thousands of meals to families in the Taos Municipal Schools District and Taos Pueblo.
Additionally, Taos Farmer Rancher Co-op members produced over 25,000 pounds of produce and $25,000 of local beef and lamb, which was marketed directly to families through the CSA and distributed to 150 families in need through the Farm to Family Emergency Food Box Program. Proceeds from beef sales to the community helped to subsidize 60 tons of hay which has supported Co-op ranchers through drought conditions.
To understand the depth with which this local ecosystem of food production and food access operates, it is important to hear from the farmers, ranchers and educators who each play critical roles in creating this layered system of self-sustaining local food access and production. These are some of their stories, in their own words.
Nikki's Story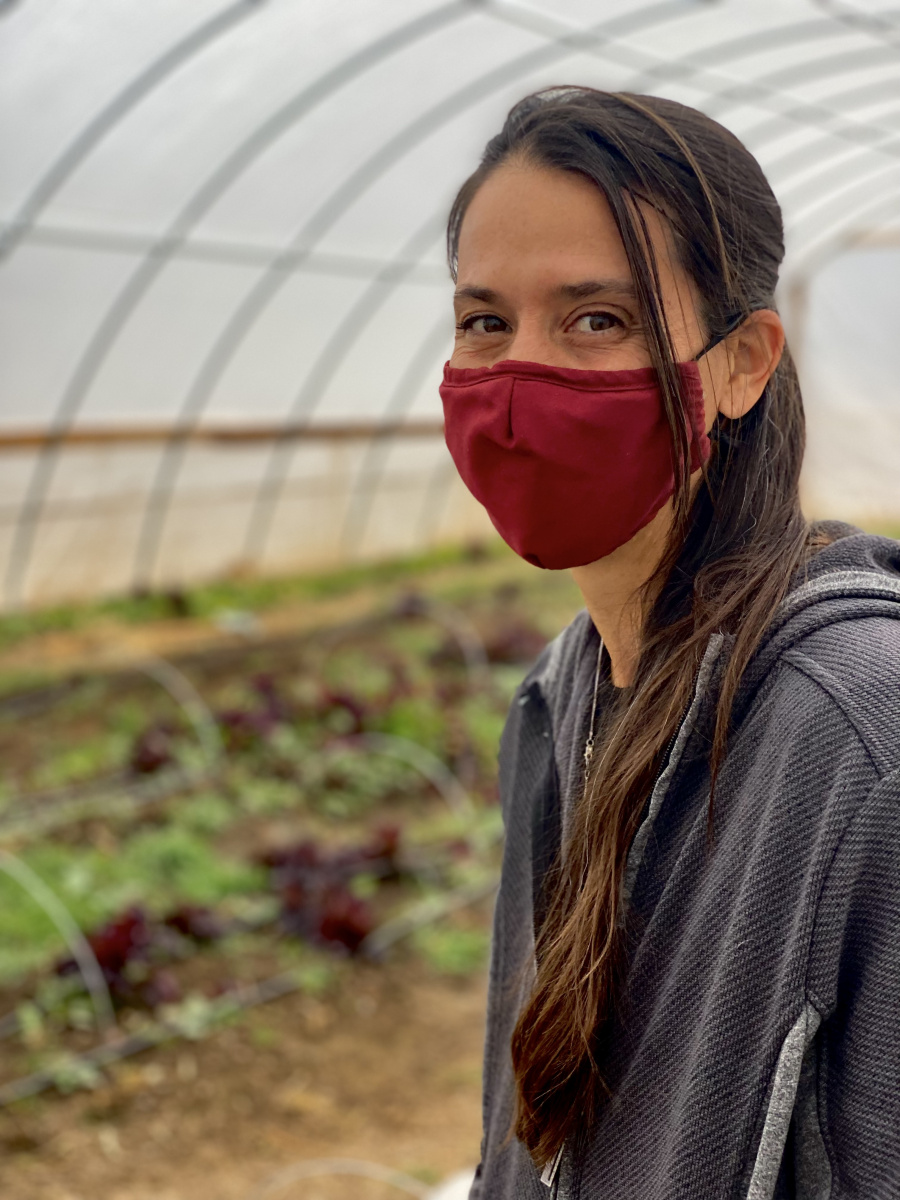 I'm Nikki Cain and I have been the Educational Director with Growing Community Now since 2016. I help to organize classes and gardens at schools in Taos. We help to put in and maintain school gardens as well as teach gardening and nutritional cooking with the produce that the students have grown. Essentially, we teach the children how to grow food locally and we provide them with cooking lessons to help them bring the food to their tables.
Our work is twofold: we go from gardening into cooking lessons. The aim is to have the kids be familiar with local, fresh food so that at the end of the day – when we get to the place where we're a farm-to-school district – the kids are going to recognize the food and be interested in eating it. This will help reduce food waste and ensure that the local food on their lunch plate is a welcome sight and that the work done to create a farm to school district will not fall short when it comes to the students' food choices in the lunchroom.
We grow a lot of different types of food! Two of the crops that we grow with kids are carrots and potatoes; we have found that these are very successful with students. Harvesting potatoes and carrots is like digging for gold. The kids get so excited! We also grow Taos blue corn and red beans with the students. We talked with them about how these beans had been grown for hundreds of years and now their seed is almost gone – so we need to regrow the beans to create a seed stock. There's a lot of pride in that – in continuing a tradition. Next growing season, we will grow the ingredients for salsa in the gardens at each school with the aim of making salsa in the fall to share.
We want to involve the children in every aspect of growing plants and food. We plant directly into the ground, but also sprout seeds in paper towels so the kids can see the process of what happens to the seed while it is in the dirt. The opportunity for them to be able to water by hand is also really important. We always have watering systems in place, but any time we work in a garden with the kids, we give them a watering can. We do this to foster direct relationships with the plants. They, of course, help to harvest, too. Other work that they do is to save seeds, create compost, weed during the growing season, help create seedlings and plant starts and help shut down the gardens at the end of the season.
At the beginning of our programming, we'd go right into the kids' classrooms and transform the rooms into a working kitchen. We'd make a complete dish together, sit down, eat and talk about our experience of how the food felt in our mouths. How did it smell? How did it taste? There's no right or wrong answer for the kids. They could say, "No, I didn't like that, and this is why." We could speak about what we liked and what we didn't like. The students took home recipes to share with their families. We currently do our work through scheduled STEM or PE classes and so now we have a centered location at each school that we can work out of. We also do tasting events in the school cafeterias where students can see different types of vegetables, touch them, taste them, and learn about them. They listen to a farmer and have an interaction. They try the vegetables and then they tell us what they think about them. It's been very successful in helping to expand student's palates and discussion of food experiences.
These types of discussions around food help to strengthen students vocabulary, but there's also a huge science component, too. Cooking involves chemistry and planting informs the kids about the plant life cycle. We're talking about the seasons and senses; we're looking at weights and measurements and temperatures. It's so hands-on and they soak in the information while in the process of using that information.
At Enos Garcia [elementary school], if kids see me, they often will demand kale on the spot. It's amazing to me that they want kale right then and there. If I don't have it, they can be satisfied by assuring them that there is some growing in the garden. We worked really hard on introducing that plant to the kids – through growing it and sampling kale chips and kale green smoothies at tasting events. The first time we ever did a tasting event was for kale green smoothies and we showcased the kale plants that the students had actually planted themselves from seeds. We had someone running a blender to demonstrate how smoothies are made as if it were a cooking show. It was quite a fun scene! At that point, Enos had close to 500 students; we only had two who said they didn't like the smoothies. It was phenomenal.
We host a gardening club at E.G.E.S. and the kids in the club took home bags of vegetables this last fall – and they were so proud. We always provide recipes so families can cook together. It's great to hear back from the students about how they might have modified a recipe or have a family one that is like the ones we have shared. We've also been doing drive-thru events at the schools for families who are staying home due to COVID. In the fall, we gave out pumpkins along with four different recipes using pumpkin and instructions on how to roast or boil a pumpkin and use the pulp.
I had a girl the other day say, "Farmer Nikki, you gave me a recipe for that bean salad. It's my favorite. I eat it all the time." That meant a lot because what it says to me is that the students are truly interested in and care about their food and that they can help to lead when it comes to making healthy food choices for themselves and their families. We very carefully and specifically choose recipes so they're packed with nutrition, use ingredients that families can afford, and that they can make together.
Taos has been an agricultural community for a long time and, although agriculture has diminished through the years, people continue to grow food crops here. When I'm out in the schools, the elder school volunteers will often tell me about their experiences growing up with planting and harvesting crops with their families, including stories about their grandparents. I find that folks love to talk about food - what they grew, when they grew, how they grew, and with whom. When they tell me their stories, it's heartwarming and informative. I'd like to document people's agricultural history and experiences so that we can stay connected to our history and the land. Knowing the local farming techniques starts by sharing stories about growing. The kids and their families start to talk to each other about the food and where it comes from when we have introduced vegetables and recipes to them; this is an opening for bigger conversations that includes local and family history.
I love doing this work because you get a chance to get kids out and have fun with them in a way that is supporting their education. Children benefit when they are allowed to touch dirt, dig up a worm, watch a seed sprout, see plants grow or learn to use the garden tools. It provides them real-life, hands-on experiences that they can relate to once they are back in their classrooms studying math or science or having a discussion that involves describing their experiences and giving an informed opinion. That's one of the joys of my job – we're providing that opportunity! I find that educators, students and families all want to have this type of programming involved in education. It enlivens, enriches, and engages students; the seeds that the students plant helps the community to grow together.