Santa Fe Housing Action Coalition
At the conclusion of a year-long planning grant, the Santa Fe Housing Action Coalition and Homewise Zone collaboratives joined forces to partner on issues related to affordable housing in the Santa Fe area. This included supply, access, affordability, taxation, and developing various policies with a core focus on creating a permanent funding source for the City of Santa Fe Affordable Housing Trust Fund.
With the initial framing question, What will it take for affordable housing to become a more equitably accessible available resource in Santa Fe?, the Santa Fe Housing Collaborative has focused on bridging community organizing with advocating for policy change to address and alleviate the housing crisis in Santa Fe.
The collaborative brings together a diverse pro-housing constituency, including developers, landlords, employers, educators, renters, commuters, families, advocates for vulnerable populations, and others with shared interests in affordable housing. Members of the collaborative have used their networks to create a community engagement model for affordable housing that informs community members and engages them in community meetings and city council meetings, while providing opportunities to have their voices heard.
As a collaborative, the group has successfully advocated for key pieces of legislation that have advanced housing goals. Most recently, the group has secured a commitment from the City of Santa Fe to identify a dedicated funding source for the City of Santa Fe's Affordable Housing Trust Fund at a minimum of $3M per year; created a monthly web-series that exclusively discusses housing issues in Santa Fe; collaborated with the New Mexico Department of Finance and Administration to create awareness and provide assistance for individuals applying for the Emergency Rental and Mortgage Assistance Program during COVID-19; and supported the Siler Yard development, a nonprofit-driven project that combines highly affordable live/work rental housing co-located with a community makers-space.
In addition to highlighting the collaborative's policy work and housing partnerships, it is important to share stories and lift up the voices of community members who have been displaced or do not have access to safe, affordable housing. These are some of those community members, speaking in their own words.
Steven's Story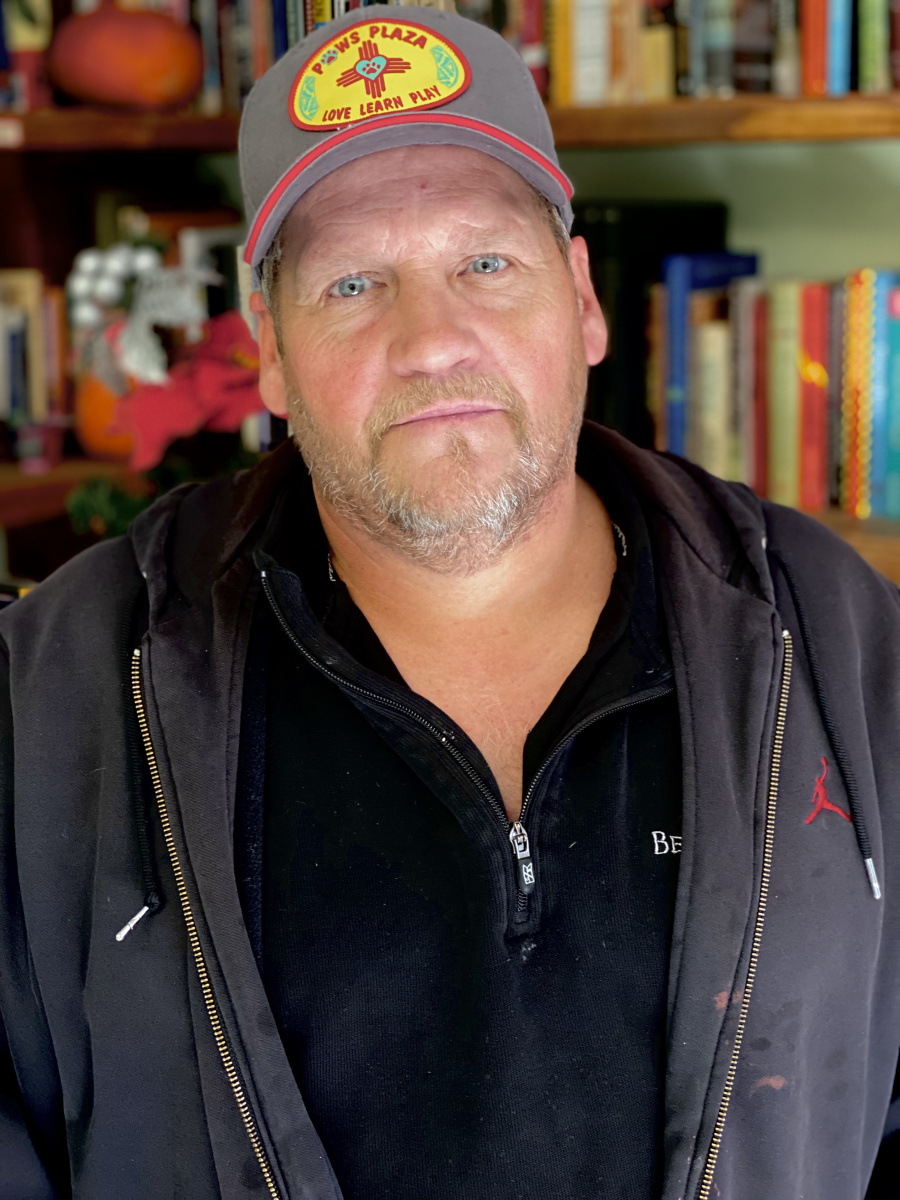 I was born and raised in Albuquerque, New Mexico. My mother raised me; my father was in the Korean War. He left me and my mother and my sister when I was three. He couldn't face reality, I guess, when he got out of the war. So, he abandoned us. I could say that I was upset when he did that, but he probably didn't have a very good time in the war. After a while, I forgave him.
I was 16 when I moved out of my mother's house and I started to travel around the world. I met some folks and did different jobs. It wasn't until recently that I became homeless. I was in Albuquerque taking care of my mother – she got a foreclosure put on her house. It was done illegally, and they're saying that she can have her house back. But my mother is getting dementia, so it's hard to connect with her and have her understand what she can do to get things back.
I was living in Albuquerque for a long time. I was sleeping on park benches and going to shelters, but the shelters aren't as good as they are in Santa Fe. There's a lot of drugs and alcohol. I quit drinking years ago and I'm also five months sober off of drugs. I have no intentions to use.
I've lived a rough road. I've had some struggles when I was using. But, since I came to Santa Fe, everything has changed. At first, I was doing security for movies. It was pretty intense. I did a lot of wine festivals and the Native Market in downtown Santa Fe. Now I work with dogs as a dog handler. It's a very interesting job. When I get to work, I make sure the dogs aren't being aggressive and they're not barking loud. I build a relationship with them and I get to know them. They get to know me. I'm on my feet all day and I just need to make sure our area is clean and we get along. Just make sure the dogs don't get aggressive. I've been there for almost three months, and I'm doing really well.
For housing, it's just been real difficult. I don't understand why it's so hard to put somebody into a home or an apartment when they're doing so well. What confuses me the most is that in order to get a place to live you either have to be mentally disturbed, coming out of prison, being on probation or physically handicapped, which is understandable. To that point – if you can't get around, you should be able to get an apartment. But, with me and other folks here, who have jobs and are doing well – staying sober and clean – it's very difficult for people like us to get a place to live.
I've had case workers tell me, "Why don't you just say you have a mental issue?" But, when you start doing that, then it goes into the system that you have to see a psychiatrist or you have to take pills, and I just can't see myself going down that road. I'm a hard worker; I've changed my life and found a better way to live, but I just can't find a house. I think there should be more resources – or people should have more opportunities to get a place to live, especially if they're bettering themselves.
Santa Fe is a rich community, and I think it's made people think that there shouldn't be homeless people or people living on a low-income. It just makes it harder for people like myself to get a place to live, but I'm doing my part. I understand how people look down on homeless people because some of them give it a bad name. But there's also homeless people who are artists; there's some very smart people, but people don't see it like that. They look at us like we're bad people.
Sometimes I wonder what is done with the budget money for homeless people. There's abandoned hotels; there's abandoned buildings. They could use that budget money to open up housing – it would create more jobs and buildings wouldn't sit there rotten and abandoned. I'm confused at some of the bills that pass for housing. It just seems like the percentage of homelessness keeps rising. And it's cold out there, so people are freezing to death. It amazes me.
Money is the biggest obstacle. If I did find a place, it would be empty; I would need money to buy things and fill it up. I would need to know: do I pay my utilities or am I gonna have the support to pay the first month's deposit and rent? And then the time frame: do I have enough money in my bank to make all this happen? That comes into worrying about it and stressing over it. You have to think about if you have past bills that you owe. It's complicated. But, I'm checking on a two-bedroom now. I would be able to take care of my mother. I love her and she's suffering. And, I'm doing it for myself, too – it's a place to live. Hopefully, I get it. If I do, I do. If I don't, I don't.
I'd like to see people have more opportunities and more resources – be able to have somewhere to go when it's cold, more ways to find jobs. Maybe have more time to spend in a shelter so they have more time to find a place to live. And maybe not so many promises that are broken – don't give us hope and then knock us down. I've always said, if I became rich, I would definitely make things happen because I don't like to see people suffer. It's a terrible thing.
Jackie's Story
My name is Jackie Gibbs, and I'm the Culinary Director for Youthworks. I'm actually a graduate of the program. I came to Youthworks when I was sixteen years old – homeless, dropped out of school and I was doing pretty bad. I was using drugs and really struggling with where I was at in life.
I've struggled with finding a place where I could afford to live, even with raises at work and feeling like I've taken all the right steps, but still feeling like there weren't enough resources for me to get into a place where maybe, more wealthy people could afford. Like someone who has a family with extra income or land to give to their children. My family comes from a poorer background. How we grew up was different.
When I was homeless at 16, there was nowhere for a 16-year-old, homeless, emancipated youth to go besides youth shelters. Going through all the processes I went through to try to find housing – signing up for civic housing and county housing – getting put on those lists and waiting. I'm 33 years old now, and I still haven't received a phone call from any of those places. Even if I did qualify – and I do qualify – I still haven't been able to use those resources that are available.
At one point, there was no affordable housing [in Santa Fe] – there was nowhere for anybody to rent. Within the last two years, they've started building more, and we're starting to see a lot of those houses go up. But, I'm not seeing the people who are struggling with housing get into those places. I'm only seeing the people who are continuing to have money get into those places; it's only allowing people to upgrade the affordable housing. That's how I feel, at least, watching it from the outside.
I live in a low-income apartment right now. I've moved into four different places in the last year. I consider myself a pretty well-established person. I have a good job; I'm not using. I've done all the steps that I believe would bring me into a better place to live. I'm lucky to have the place that I have, but I had to have a lot of backing from Youthworks to get that place. I'm lucky to have had that backing because if I didn't have it, I probably wouldn't be where I am. I'd probably still be struggling, staying at the Santa Fe Suites and looking for that next place to live, and getting loans to just get by. If I wanted to get into another place, I'd have to get a loan to play the deposit and then put myself more in debt.
I make money, but I make just enough for the cut-off for low-income housing. Luckily, where I'm living, they were able to make an exception for me. I'm glad to be where I am, but I'm always worried that something's gonna happen when I renew my lease – like I'm making too much money and they're gonna kick me out.
Homelessness is something I always worry about. I worry about going back to where I was before. When you're homeless, you have to do what you can to survive and your mind thinks a little bit differently. When I'm thinking about affordable housing, I think, "Where are those resources?" I work at a resources organization, and it's still hard for me to find housing resources for other people.
People like me are in the hardest position. People who are emancipated youth, have been raising themselves, have no family connection, are on their own and they need help. Where do they go? How do we direct these people? Even with the new apartments going up, just trying to apply for the low-income housing is an obstacle because they ask you for documents that you might not have. You still have to qualify, but there are hoops to go through.
If you have a community that struggles with homelessness and housing in general, where people can't afford to keep their homes, and people are moving from hotel room to hotel room, then we have to do something about it as a community by addressing it from the start. We have to begin by getting people off the streets first and then from there, we need to address how these people are going to afford houses or sustain the place they're at. We need to get them jobs that they can maintain.
My real passion is to help not just youth, but other people with housing, too. I want to get homeless people jobs and houses at the same time. Imagine two broken down hotels and the mid-town campus kitchen being used to house and feed people. All people have to do is show up and fill-out an application.
It's starts by making a sense of community; we have to help our people who are struggling down, down below and build something from the community up. We have to welcome in these people and stop acting like they're just not here.