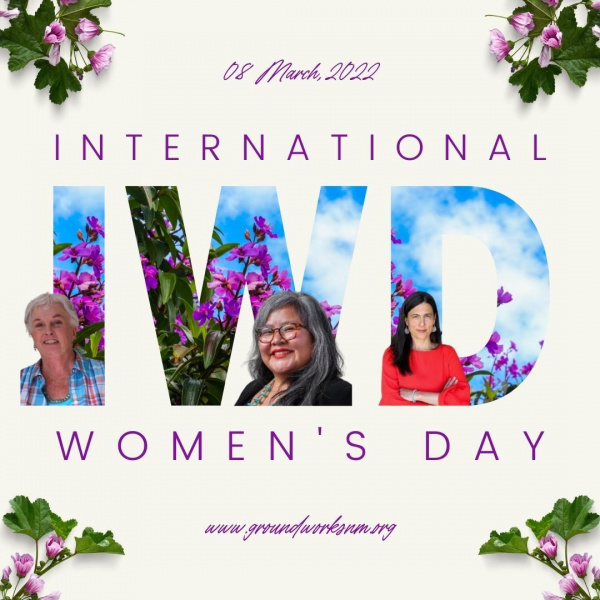 In honor of International Women's Day, we would like to celebrate three women striving to make a difference in the New Mexico social sector: Barrett Brewer, Vanessa Roanhorse, and Sarah Ghiorse.
Barrett Brewer founded the Grant County Community Foundation in Silver City, NM. She established the first Mobile Food Pantry in Gila, NM and now works as the Volunteer Coordinator. She was awarded the 2013 Rio Grande Volunteer of the Year and serves on the board of the Gila Valley Library. She has extensive experience in setting policy on school boards and the City Council. Barrett is also a "book artist," creating one-of-a-kind and edition "artist's books." She received a master's at the Grant Institute of Geology in Edinburgh, Scotland.
Vanessa Roanhorse (Diné) is the CEO of Roanhorse Consulting, an Indigenous-owned company that co-designs wealth and power-building efforts that put people back in the center. Vanessa is a co-founder of Native Women Lead, a national organization that invests in Indigenous women in business. She sits on the boards of Groundworks NM, Delta Institute, Zebras Unite and is an advisor to Decolonizing Wealth, Angels of Impact Fund, GenderSmart's JEDI Working Group, and Social Venture Circle's Restorative Investing Taskforce. She is a 2021 Paypal Maggie Lena Walker's Emerging Leader Awardee and a 2020 Conscious Company Media's World Changing Woman in Sustainable Business Awardee. She is a 2021 Purpose Fund Building Fellow and a 2020 Boston Impact Initiative Fund-Building fellow.
Sarah Ghiorse has twenty years of experience working for social and gender justice in the non-profit and philanthropic sectors. She is committed to working for gender equity in New Mexico, and believes that the power of community is what generates lasting structural and systemic change. She holds an MA in Social and Cultural Anthropology from the California Institute of Integral Studies in San Francisco, and BA in Women's Studies from University of California, Santa Cruz.