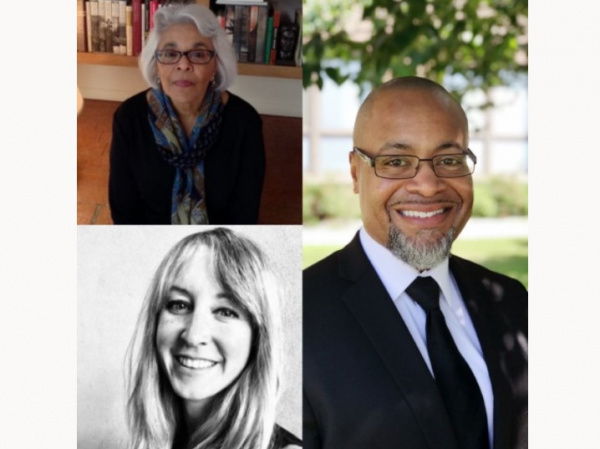 We are excited to welcome Revathi A-Davidson, Rodney Prunty, and Johanna Nelson who joined our Board of Directors in January of this year.
Revathi A-Davidson, MA (Vanderbilt University); MPH (University of North Carolina at Chapel Hill) is a retired healthcare and hospital administrator who had a long career at Presbyterian Healthcare Services in Albuquerque, NM. At Presbyterian, her leadership positions included the Oncology Program, Home HealthCare and Hospice Services, the Medicine Program (Adult Hospitalist and Intensivist Services) and Administrator, Kaseman Presbyterian Hospital and Campus. In addition to her many years as a volunteer with the United Way of Central NM's Women United and the Community Impact Council, Revathi is also involved with healthcare decision making and end of life care planning initiatives. She was a founding member of the group now called End of Life Options NM. Prior volunteer work at Catholic Charities that was especially gratifying to her was serving as a Spanish to English language translator for victims of domestic violence. Originally from India, Revathi is now proud to call New México home and to serving the state's rich and diverse populations.
Rodney Prunty is a passionate, dedicated community servant with 34 years of experience in the nonprofit sector, including 14 years with United Way. Rodney began employment at United Way in 2007 as a resource development manager for United Way of Rock River Valley in Rockford, IL (UWRRV), where he was responsible for developing and implementing fundraising strategies and donor cultivation for the annual campaign. Rodney began his role as President & CEO of United Way of Central New Mexico (UWCNM) in June of 2019. Under his leadership, UWCNM exceeded its campaign goals for the past two years. UWCNM was also selected as one of forty-seven local United Ways across the country to receive a transformational gift from MacKenzie Scott in 2020. UWCNM also raised over $1.4 million in COVID-19 recovery and other emergency funding in 2020. Mr. Prunty is unwavering in his in his focus to create long-term, positive community change at scale. He holds a Master's Degree in Organizational Leadership and a Bachelor's Degree in Human Services. Read More About Rodney.
Johanna Nelson is a Certified Economic Developer through the International Economic Development Council and is a past fellow with the Council of Development Finance Authorities. She holds an MBA in Organizational Development and a BS in Industrial Technology and Design. Johanna is currently the Strategic Programs Manager for the New Mexico Economic Development Department. She has owned several small businesses and currently operates an ecommerce business in her spare time.